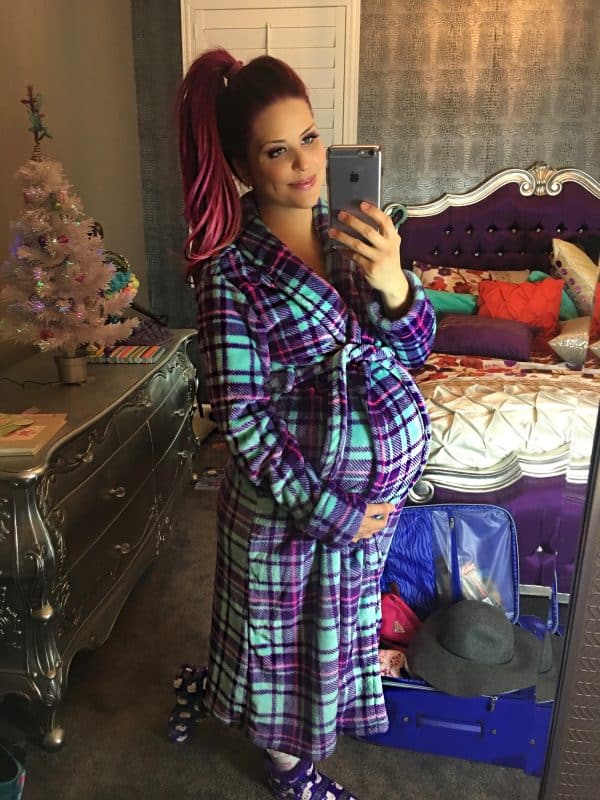 Well guys, it's that time! Time to pack the hospital bag; 38 weeks is upon us! She could be here at any day now.
I have been gathering items for my hospital bag over the past couple weeks, and finally have it all together.
Some of you may be birthing at the hospital, and others at a birthing center with a midwife. There are so many different options these days, and I absolutely love that.
For me, I am going to the good 'ol hospital. 🙂 My hospital is quite cool and newly remodeled, and they seem to be very accepting of every mother's birth plan. I felt really good when I took a tour of the facility. I liked that they would let me bring all of my "feel good" items into the birthing room, and that they took the time to answer all my questions and concerns.
Depending on which route you are taking, your hospital bag items may differ from mine. Leave any of your questions and/or ideas in the comments. I would love to hear from you!
Many people say that you'll only need a 1/4 of the things that you bring to the hospital, but I say better safe than sorry.  (In a follow-up blog post, I'll let you know if there are things that I 100% did not use or need to bring).
In addition to the necessities, I encourage you to bring some of your favorite "feel good" items to the hospital.
I am one of those people who thrive on my surroundings being my "happy place," so I felt like I needed to bring a few extra not-so-essential items to the birthing room. Let's take my diffuser for example. Is this completely necessary? No, but my oils and my diffuser elevate my mood so I decided to bring them along.
Hospital Bag Items
Birth Plan
Insurance Card
Two Pillows – the hospital has pillows, but I like my own
Blanket – I'm bringing my favorite soft blanket
Snacks – granola bars, plain crackers, coconut water
Outfit for Lily to wear home
Lily's baby tiara for newborn pics 
Essential Oils & Diffuser – I am bringing: Orange, Lavender, Frankincense, Peppermint, Gratitude, Stress Away, Progessence Plus, and Gentle Baby.
Exercise Ball – helps to open up pelvis and can help speed up delivery. Some facilities have these on site but mine does not.
Makeup 
Toiletries – lotion, deodorant, eye makeup remover, mouthwash, toothbrush, toothpaste, hair ties, hair brush, soap
Lip Balm – lips can get very dry during labor
Dry Shampoo – no brainer 🙂 gotta try to keep that hair on point
Nursing Bra
Phone Charger
Car Seat – already assembled in the backseat
Comfy Robe – for walking around the room and for the couple days after birth. I am wearing mine in the picture!
Socks – sometimes feet get cold during labor
Bedroom Slippers – for after delivery 
Couple changes of comfy, loose fitting clothes to wear around the hospital 
Birthing outfit/nightgown – I am bringing my most comfy nightgown to deliver the baby in
Lollipops – Mouth can get very dry during labor. I'm bringing Zollipops bc they are sweetened with xylitol, a healthy sugar alternative.
Arnica Montata – to take during labor to reduce bleeding and pain
Rosewater Mist – my favorite mist and hydrator that helps me relax and keeps my skin moisturized
Regular panties – no sexy panties after delivery. I bought some high waisted, cotton undies from target
Maxi Pads – yes, apparently this is a necessity. Need I explain? I hope not.
Baby Diapers – dosent hurt to have a few on hand (basically for the rest of my life haha)
Cute outfit for ME to wear home – Ok, so I was chatting with a friend recently and she said she wore a really comfy, but glam, outfit home from the hospital. She said it made her feel like a million bucks and she didnt feel sloppy for all the baby photos. I decided this will be my plan as well. Simple but chic. I am bringing black leggings, black flat boots, a colorful tank top, my cozy black cardigan, and a chic floppy gray hat to wear on top of what will be my nappy hair. Probably gonna toss on some shades as well. 🙂
Did I miss anything crucial? What other items do you recommend? Let me know in the comments!