Out of all the smoothies I make, dessert-inspired ones are my favorite – especially this Almond Joy Smoothie. It's like a nostalgic treat!
I love Almond Joy candy bars. They are so chewy and delicious. The only thing I dislike about Almond Joy candy bars is that I can't eat 45 of them! They are full of unhealthy stuff, and they make my jeans too tight. (Actually who am I kidding, I rock the jeggings these days anyways, so I guess I cold afford to stretch them out a bit more) ????
No, but seriously, this Almond Joy Smoothie is legit. You'll LOVE it. It's way better than a candy bar. Why? Because it's guilt-free! It's chocolaty, coconut-ty, creamy, deliciousness, AND it's refined sugar-free, dairy-free, and plant-based. You can eat as much as you want of this Almond Joy treat and still feel amazing! ???????? (I can't wait for you to make this recipe!)
If you live in Las Vegas (or if you're visiting), be sure to make a stop into Violette's Vegan Cafe and try some of my milkshakes! I made 4 delicious recipes that are only served at Violette's. (I mentioned them in my Best Las Vegas Restaurants too!)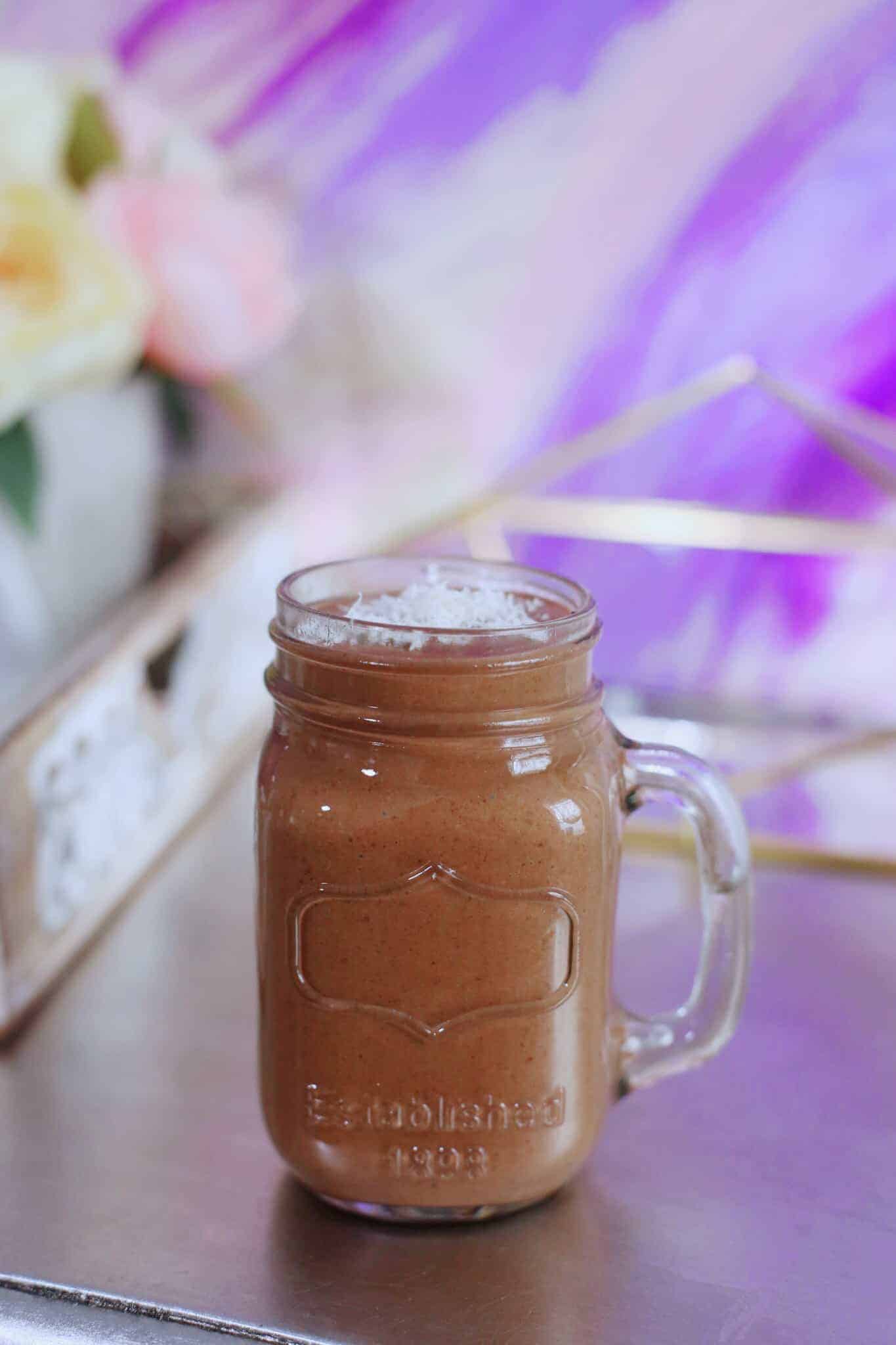 Side note, can anyone believe that November is already here? I started playing Christmas music on Friday, and I'm loving it! Lily's turns 11 months tomorrow! That lil tot – she's so darn cute! I was looking back on her pictures from last Christmas and I can't believe how big she is now! (Stop growing Lilygoat!)
We have a really busy week ahead of us, and we hope (fingers crossed!) to be moving into a new house at the end of the week. We are quickly running out of space as Lily continues to be more curious and mobile. She's not walking yet, but she is a VERY fast crawler! ????
If you haven't seen our Halloween pictures, I'll be sharing them on the blog this week, AND I'll be spilling the beans on my new boyfriend. ❤️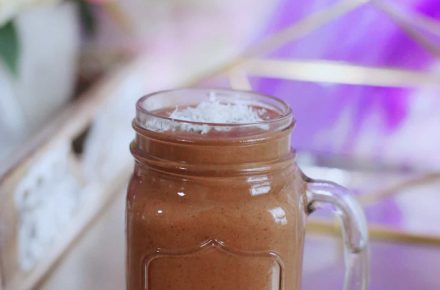 Almond Joy Smoothie
INGREDIENTS
1

Cup

Non-Dairy Milk

2

Frozen Bananas

4

Medjool Dates

2

Tbsp

Cocoa Powder

unsweetened

3

Tbsp

Coconut Butter

2

Tbsp

Almond Butter
SaveSave
SaveSave
SaveSave