This ice cube facial is a must-try beauty secret!
Honestly, I have maybe had only one facial in my whole life. I always want to get them, but I can never seem to find the time for a professional one. (maybe one day though!)
Apparently, I've been really into ice cubes lately, with my green tea ice cubes & aloe ice for sunburn.
So, why not end the summer months with another ice cube beauty tip??
The ice cube facial.
I want you to dunk your face in ice.
Yep. Sound cool?
Actually that may sound way too cool as in COLD.
The things we do for beauty, right??
In fact, as I get older, I am always thinking of ways to keep my skin looking fly, and my girlfriend (who is an esthetician), told me about this inexpensive beauty tip.
The ice cube facial is seriously the easiest and cheapest way to tighten pores and freshen your skin!
Also, it isn't even expensive…it's basically a FREE facial.
There are no excuses not to jump on this beauty trend.
The ice facial is the BEST quick tip for your morning beauty routine.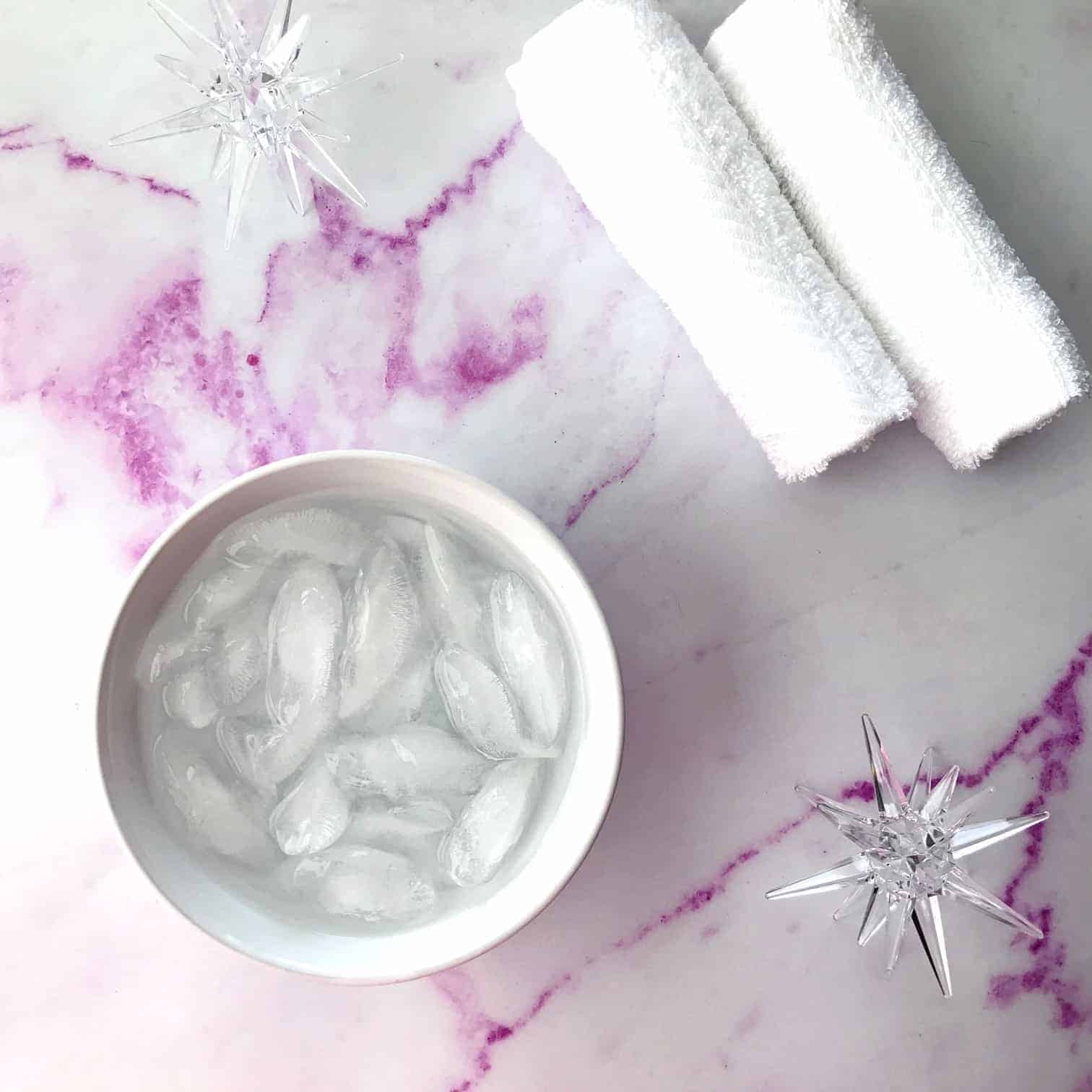 Plus, not only will this wake you up, but it has some major skintastic beauty benefits.
Here's what you do:
Fill up a large bowl wth water and ice cubes.

Tie your hair back.

Dunk your face for 10 seconds.

Repeat 3 times.
Here's what it does:
Eases redness

Refines pores.

Tightens skin.

Wakes you up!
So I'll be honest…I don't know if the ice cube facial is something that I'll be doing when it's 30 degrees outside, but until it's ice cold outside, I'll be rockin' this facial inside. ✌????
Next beauty trick?? Finding a high quality retinol (like dermatologist level) that is cruelty-free! So if you know of a particularly great brand, by all means, please let me know in the comments below.
Also, let me know what you think about this facial?! What are your thoughts on this cheap beauty hack? Finally, are you going to try it?
Xo, Ash.
PS – Lily and I just got home from our Texas trip. Of course, it was a lot of fun reconnecting with my girlfriends and they all loved meeting Lily.
Lots of new stuff coming up on the blog next month. We have a huge brainstorm / meeting with Alex, Natalie, and my new intern, Brie tomorrow. Be prepared and expect LOTS of good stuff now that we are back home and in action. (Anyone ready for fall?)
PPS – Check out more of my articles with beauty secrets and tips in the beauty section of my blog.