Hello! Can anyone believe it's the middle of February?! I feel like Christmas was yesterday.
It has been non-stop around here since basically October. It's been ridiculously crazy and I wish I was exaggerating. It's been a good kind of crazy though.
I'll get to the Southwest Mac & Cheese business in a sec…????
So one of my girlfriends called me on Wednesday to catch up, and I said that she wouldn't believe it but that morning was the FIRST TIME Alex and I had been in our house by ourselves. Seriously!
Since we moved into our house at the beginning of November, we have not had alone moment (without any guests or baby) until Wednesday. Sooo I said, "Open the Andre!" And if you don't know Andre; Andre is my favorite cheap bubbly…it's soooooo good. ????
I am not complaining though, we actually love having friends and family around. I mean why have a big house and keep it all to yourself? But yeah, we were cracking up that Wednesday was our first time to have a few hours to ourself.
So…as you can imagine, as our lives have become busier, our meals have simplified. I'm really into making one pot meals, foods in the Vitamix, Instant Pot, or Crock Pot. I'm also still really into making our meals just as healthy and (even more) delicious than ever.
I know how easy it is cook pre-made frozen meals, especially when you've had a long day and the last thing you want to do is cook. Believe me, we do it too! (Actually, yesterday I raided Trader Joe's frozen section and came home and whipped up an asian dinner complete with Mango Rice Sticky Spring Rolls…super tasty, but I was bloated AF and felt like a big ol fatty pants deluxe). ???? We try our best to cook at least 3-4 hearty, easy, and wholesome plant based meals every week. We normally have leftovers so that's always a plus.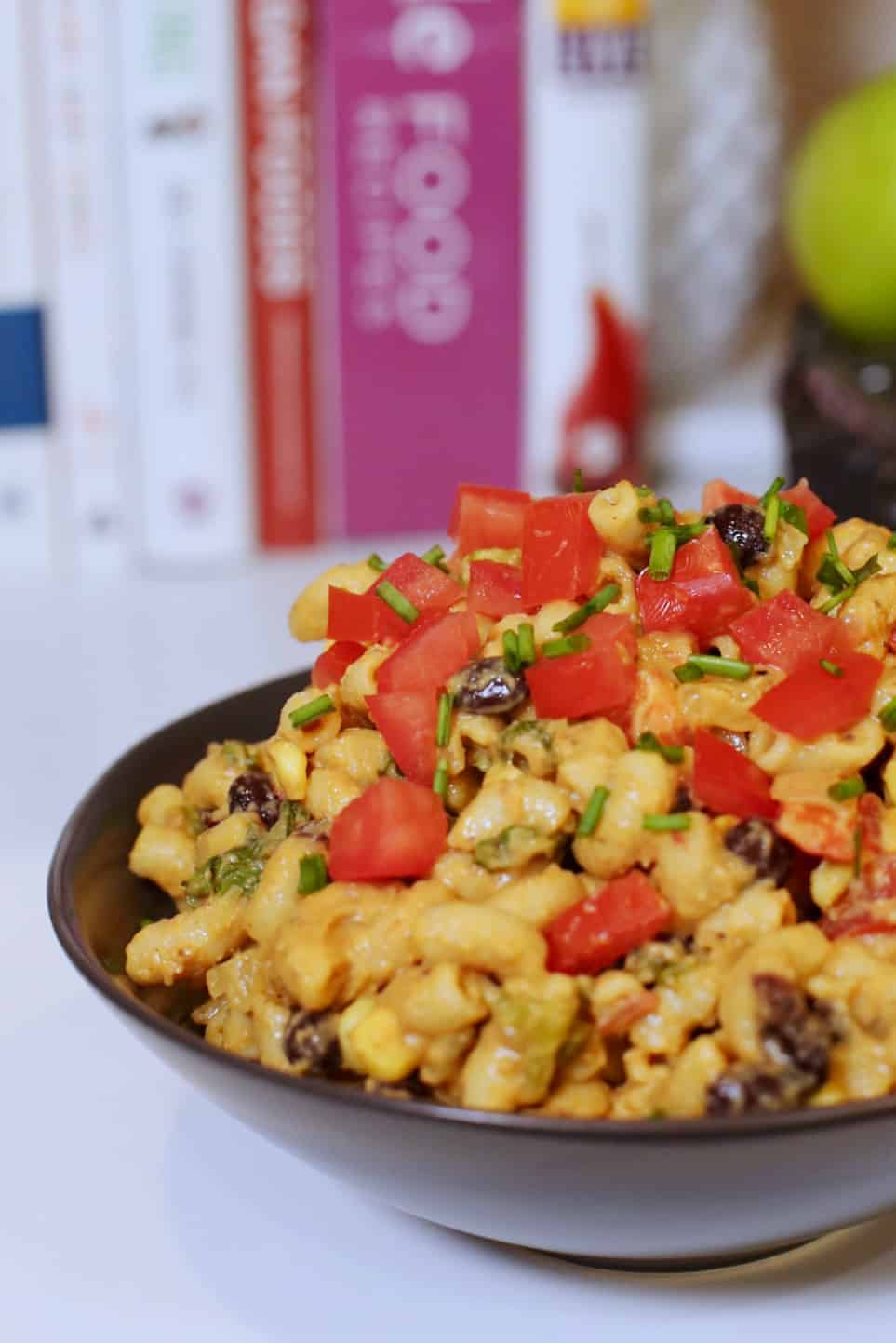 Today I am sharing one of our favorite recipes that we make all the time; Southwest Mac & Cheese.
I adapted this recipe from the Forks Over Knives App (which is an app that I highly recommend). I like a lot of their recipes, but I often find myself adding more greens and veggies to them just because that's how I roll.
Greens and veggies and LOTS OF FIBER are what you need to maintain a healthy body and a pretty body! That's why I named this Skinny Southwest Mac & Cheese. Everything in this recipe is full of fiber, even the pasta! I use 100% whole wheat pasta, or you could use a bean pasta to really amp the fiber content.
Don't be afraid to eat healthy starches and loads of veggies. These foods give you energy and they will still keep your skinny jeans in check.
This Skinny Southwest Mac & Cheese recipe is so tasty, and easy. There are a couple components to this recipe, but it's not hard or time consuming!
Blend the sauce in the Vitamix and set aside. Sauté the onion and pepper and set aside. Boil the pasta and set aside. Mix everything together and bake it.
Voilå!
Just so ya know, here are a few other of my TOP RECIPES, that are easy, healthy, and packed with flavor.
Tomato Avocado Corn Salad with Cilantro Lime Dressing
Refined Sugar-Free Pumpkin Bread In The Blender
Overnight Blueberry Coconut Oats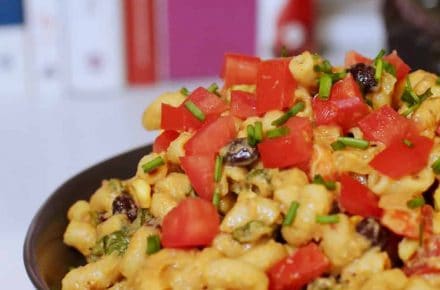 Skinny Southwest Mac & Cheese
INGREDIENTS
Cheese Sauce
1

Red or Orange Bell Pepper

1

Sweet Onion

1/2

Cup

Corn

frozen & defrosted

1 Cup

Butternut Squash

frozen & defrosted

1 & 1/2

Cups

Nutritional Yeast

1/4

Cup

Cashews

1

T

Garlic Powder

Salt to taste
Other Ingredients
1/2

pound

100% Whole Wheat Macaroni

cooked & drained, set aside

2

Cups

Corn

1

Red or Orange Bell Pepper

1

Sweet Onion

1

15 oz can

Black Beans

drained & rinsed

2

Tsp

Chili Powder

1

Tsp

Cumin

2

Kale Leaves

chopped

2

Ripe Tomatoes

chopped
Additional Topping Ideas
Avocado

Chives

Non-Dairy Sour Cream

Guacamole
DIRECTIONS
Cook pasta according to package directions and set aside.

Blend sauce ingredients until smooth and warm.

While sauce is blending, sauté the bell pepper and onion in water over medium heat for about 3 minutes.

Turn off heat and mix in beans, chili powder, cumin, tomatoes, and kale.

Combine all ingredients together: pasta + sauce + sauté mixture.

Place everything in a 9x13 baking dish. Bake for 30 minutes.
SaveSave
SaveSave
SaveSave
SaveSave
SaveSave