I started juicing again since we got back from SC. ☀️ I believe that filling your body with healthy foods changes EVERYTHING.
We came back home to radically elevate E V E R Y T H I N G in our life & biz, so juicing was a key element in living at our highest potential.
Juices keep my mind C L E A R and productivity H I G H! ????????
Many of you have asked about the juices I have been sharing on Instastories lately, and there was tons of interest in sharing more juices on the blog.
So here we are. 🙂
So real quick; what is the difference between smoothies and juices?
Well, there's a lot to explain, but I'll make it quick.
Basically, smoothies are something that you blend in a blender (like a Vitamix). Juices use a juicer. Although if you don't have a juicer, you can blend and then strain with a cheesecloth. (honestly I think the cheesecloth is a pain in the ass, and if you decide you wanna juice, then just go ALL IN and get a juicer too. Your health is worth it).
Smoothies keep all and fiber intact. This is great for fruits, nuts, seeds… all kinds of goodness that you can enjoy in full form. This is great because you get all that digestive action from the fiber!
Juicing separates the fiber from the juice. This is great because you can get a massive amount of vitamins and minerals in one glass! Because you are separating the fiber, it's best to keep it full of foods that you wouldn't like blended (herbs, roots, greens, veggies) For example, in the mornings I juice pure celery… can you imagine BLENDING celery?! Oh honey no!
People often ask which do I prefer  – smoothies or juices? I couldn't decide. I love both and I think there is a time and place for both! I am definitely going to start sharing more juices here because you know I already have a lot of smoothies.
So let's talk about JUICE!
I drink pure celery juice every morning (for intense hydration & minerals) and mix it up with another juice in the afternoon.
Today, I'm sharing one of my fave afternoon juices; Creamy Carrot Juice. Something about this juice is so smooth and creamy (there's no actually cream in it; it's just every smooth). I freaking love it.
This juice is ultra healthy due to the turmeric and ginger. (Remember my turmeric pain pills post from last year?!)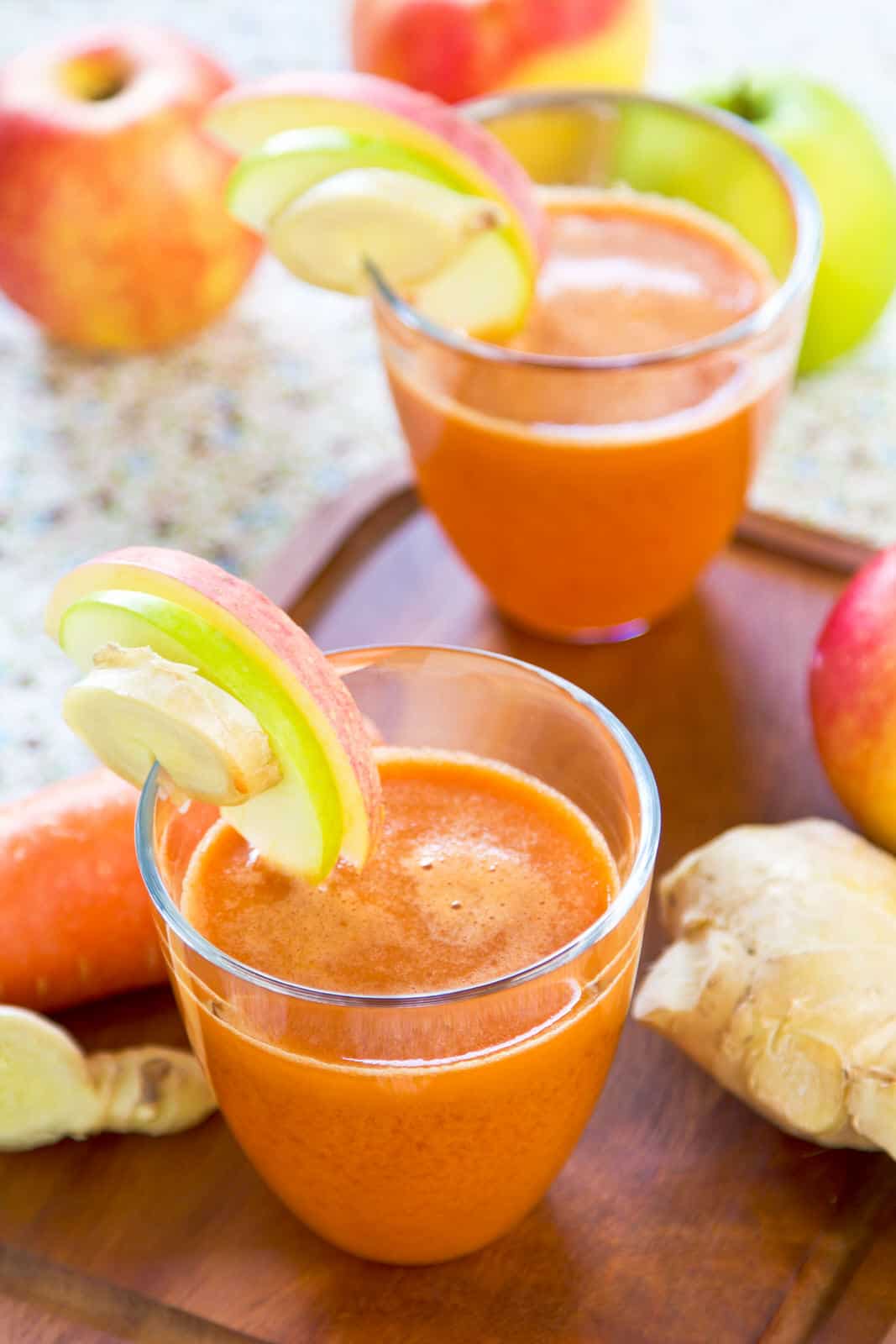 This juice is also very energizing! This is great if you need a boost of energy or for a pre-workout drink.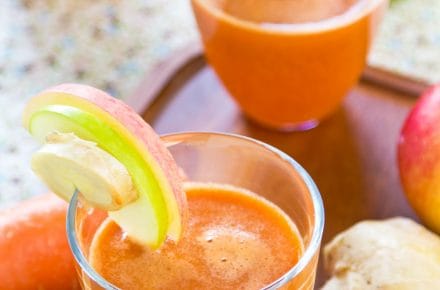 Creamy Carrot Juice
INGREDIENTS
3

Carrots

1

Orange

peeled

1

Lemon

peeled

1

Apple

1

inch

Fresh Ginger

1

inch

Fresh Turmeric

Black Pepper

pinch (optional)
DIRECTIONS
Run all ingredients through a juicer.

Stir in pinch of black pepper.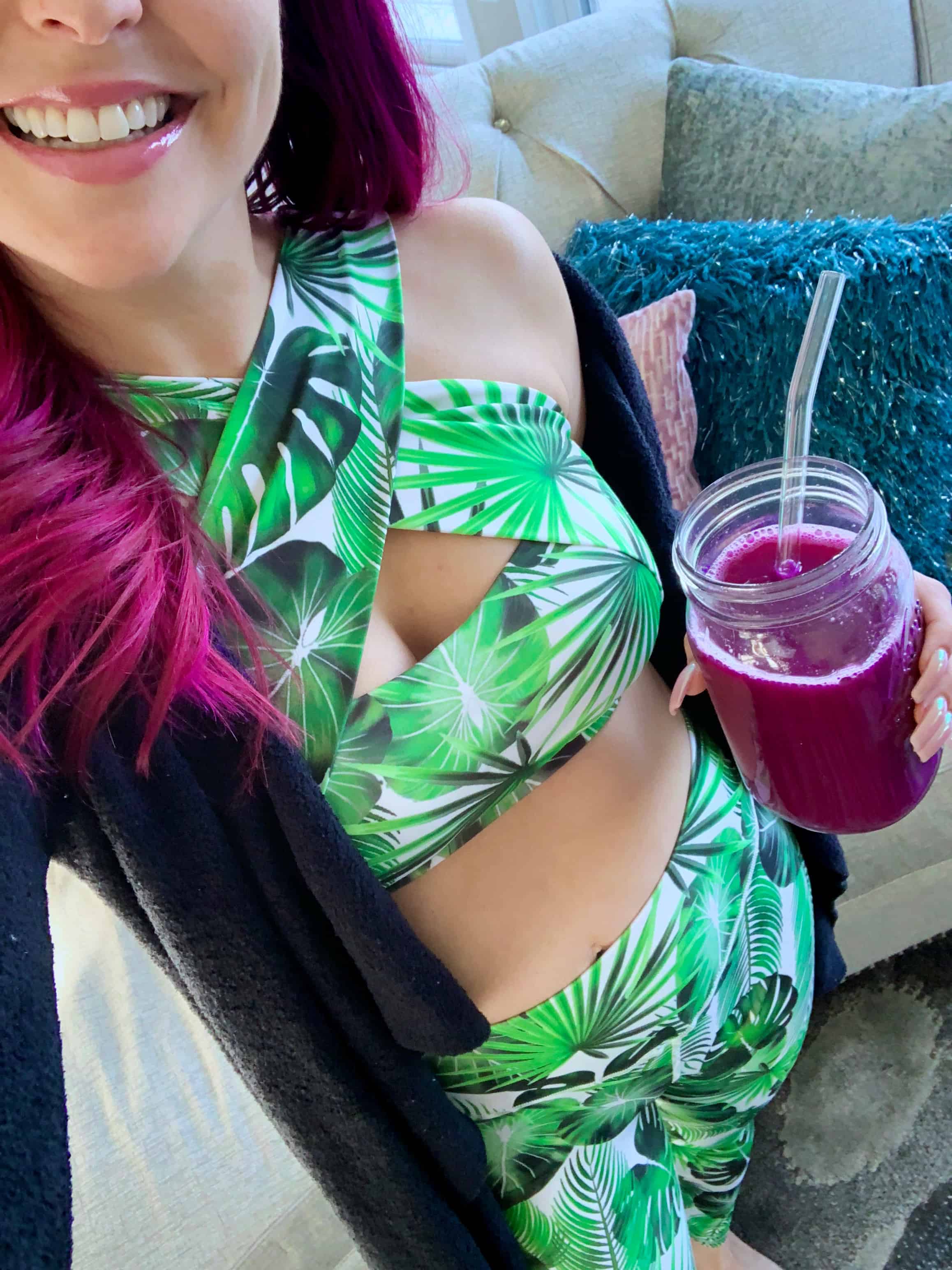 I really LOVE my Glowing Skin Juice (above)! Talk about a massive antioxidant boost that is super cheap & powerful; purple cabbage is a for clear skin remedy, cleansing for the liver, and it actually tastes great! This is a perfect example of something that is WAY BETTER in juice form as opposed to smoothie! With juicing you'll actually get the nutrients from an entire head of cabbage!
Ok chat with y'all later! XOXOXO
Outfit by Daily Chic???????????? Bringing the tropics to the winter this AM; although it's actually not too cold here in Vegas!