New fave here yall. I WISH the photo did the recipe justice, but I'm not even going to talk about what happened with my camera on the day I tried taking this picture. Let's just say I went with the "done is better than perfect" way of life with this one. Also going along with that theme, clearly I missed posting this before christmas, BUT it's also too good to not consider making for Valentine's Day. So BOOM here we are.

I'm going to cut to the chase; this mimosa recipe is BOMB, and I promise it'll be one of your new faves. I made a version of it last year, but updated it in an entirely new and spectacular way this time around. Super happy with the results.
This pomegranate rosemary mimosa recipe is fabulously festive. Rosemary is so flavorful and a powerful antioxidant. Herbs in general are incredible for your health & are majorly nutrient-dense. I try to incorporate at least 1 type of herb into my life each day, typically at breakfast (Berry Sage Smoothie or Minty Mixed Berry Smoothie), but it can also be via a hot herbal tea, or a yummy risotto.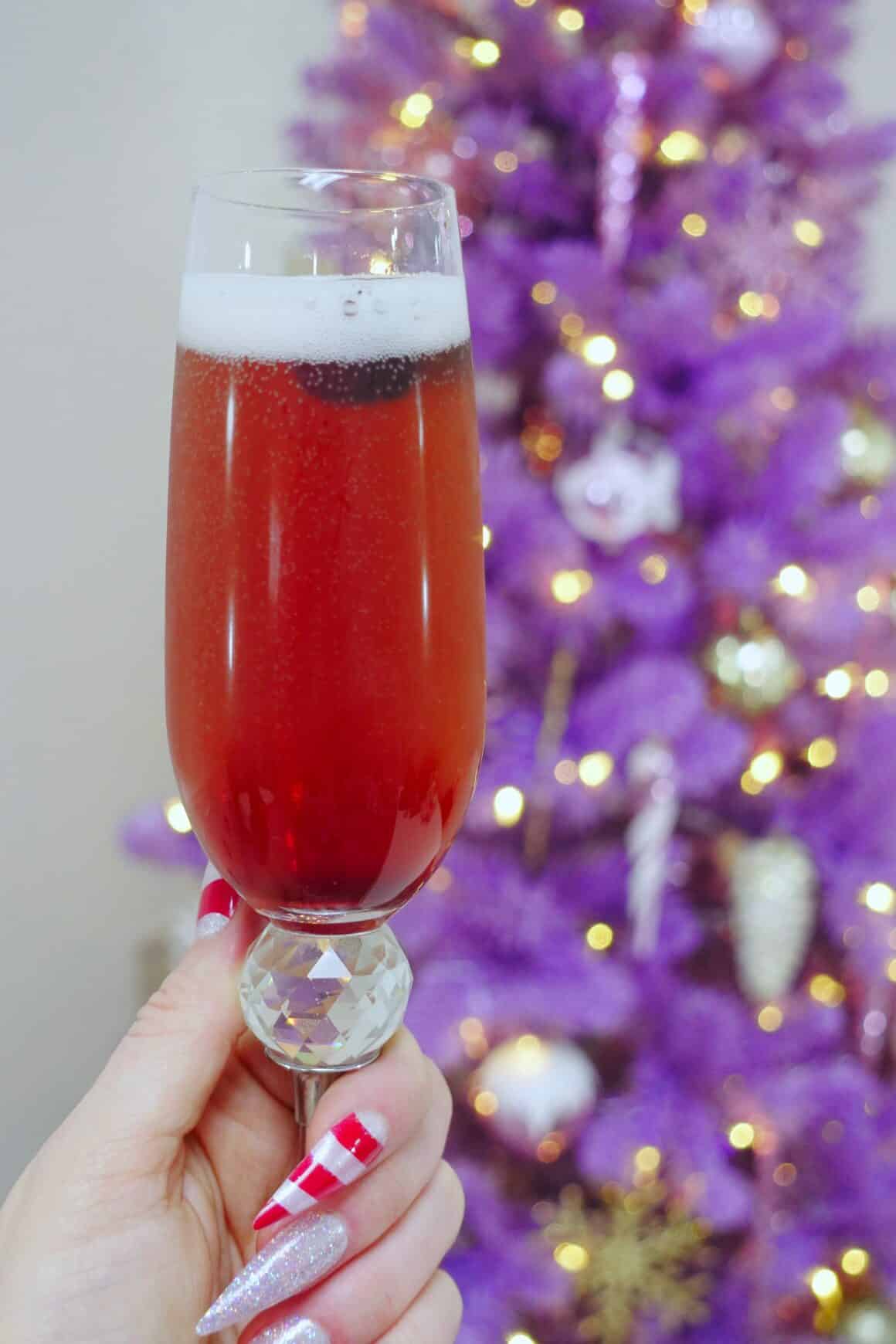 Pomegranate + Rosemary are a holiday match made in heaven. Rosemary is exceptional in savory holiday dishes or to add an unexpected flavor to sweet dishes; you only need a little bit to provide a ton of flavor.
Rosemary is GREAT to consume when raw (like in this Sweet Potato Pie Smoothie omg so good), but seriously get it in any way you can – EVEN IF IT'S MIMOSA FORM. 😉🌱🥂
And last but not least, Rosemary is great for overall wellness AND your beauty routine.
great for digestion
aroma can improve concentration
may lessen hair loss and promote hair growth
Immune support
antioxidant-rich
One more thing, if you are a bubbly fan, please know that the best kind of champagne to use in cocktail recipes is BRUT. It is less sweet, and doesn't overpower your mixers.
Also you really don't want to use expensive, or true Champagne (notice the capitalization of C). Champagne is from Champagne, France, and even though it's easy to call bubbly "champagne" unless it's from Champagne, it is called sparkling wine.
You only ever need moderately priced brut sparkling wine for cocktail recipes. When the bubbly is stand alone, then choose an exquisite, stand out bubbly, but NOT for this.
The best mini recipe book w/awesome notes, tips, and history of bubbly is in THIS BOOK. (Plus it's perfect for a bar cart)
LOVE U, ENJOY.
PS – if you're seeing this post and it's not xmas season, note that this is gorgeous for Valentine's Day too. (AND anytime of year tbh… as herbs never go out of style)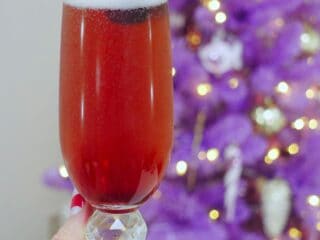 Pomegranate Rosemary Mimosas
INGREDIENTS
2

Cups

Pomegranate Juice

unsweetened

2

Cinnamon Sticks

1

Tsp

Cloves

3-4

Rosemary Sprigs

1

T

Lemon

1

Cup

Sugar

1

Cup

Pineapple Juice

chilled & reserved

Frozen Cranberries

as mimosa garnish
DIRECTIONS
Add pom juice, cinnamon, cloves, rosemary, lemon, & sugar to a saucepan and bring to boil. Once boiled turn on low/medium and simmer until sauce has reduced by half and has become more syrup-like. This will take 30-45 mins.

Remove from heat, strain, and store in glass container in fridge. (Best if made the day before serving drinks. This can last in fridge for weeks)

Add 1 T of chilled syrup to each champagne flute.

Add 1 T of chilled pineapple juice.

Add champagne and top with 3 frozen cranberries